To all our clients and business associates.
Thank you for being part of our journey. We may be a group of companies, but are movement of generosity and kindness.
May you have a blessed festive season.
Treasure these moments with with your family and friends.
Blessings
Team Dryk Holdings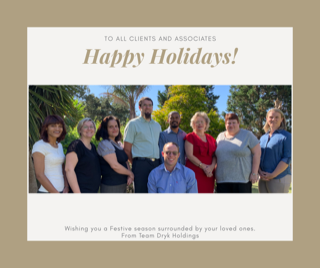 ---
LAST CALL FOR BLACK FRIDAY SPECIAL - ENDING TODAY

After our email send out Friday (See below), we received an overwhelming amount of WatsApp's and Emails for this amazing Black Friday special.

We thought good to extend this offer to this coming Friday 6th of December 2019.

Want to learn more or speak to someone regarding this special?

Email us on info@dryk.co.zaORWatsApp : 082 872 6404
---

Our email of last week Friday:

At Dryk Holdings, we aim to give our clients 10X value (always).

With this Massive Black Friday Special, we give you 30% off your annual Monthly Accounting Fees.

Feel free to contact us for more information or to discuss.
---
---
If you are not yet on our monthly accounting services program, contact me today for our FREE 3 – month monthly accounting services program. (And many more benefits in our GIFT Pack for entrepreneurs)

Email us to learn more.
---
Collect your FREE 21 – day online course in morning rituals and daily habits for entrepreneurs.
Subscribe here:
https://www.entrepreneur-sa.com/21-day-course-subscribe.html
---
Blessings,


Jasper Basson
Entrepreneur SA


Member of Institute of Accounting & Commerce.
Member of South African Institute of Tax Practitioners.
Practice AO 652 993.



---
You are subscribed to Entrepreneur SA Newsletter.

More Information:


| | |
| --- | --- |
| 21 Day Online Course - Morning Rituals & Daily Habits (Entrepreneur SA) (R490): | |
| FREE Gift Pack - Updated list of Service Providers:(Entrepreneur SA) | |
| Subscribe to your YouTube Channel: | |
| Like us on Facebook (22,245 Likes): | |
---
W: www.entrepreneur-sa.com E: info@dryk.co.za